Our new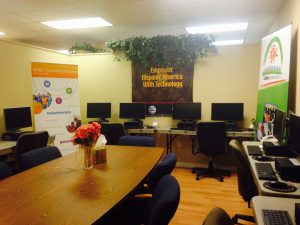 center located at the Latino Leadership, Inc. facilities, is one of 60 such centers around the country. The centers are part of an ongoing effort led by LULAC's Empower Hispanic America with Technology program to ensure that the Latino community has access to dependable and useful technology. The center includes computer equipment, office applications software, and technology curriculum.
Individuals who visit the center will  have access to technology in order to complete résumés and college applications. The technology will be used for GED preparation, financial aid research, online citizenship services, and job-search programs. The center also provides individuals with the use of high-speed Internet access, computer equipment and basic office applications software to develop job skills, research career options, educational opportunities and other resources.
8617 E. Colonial Drive
Suite 1600
Orlando, FL 32817
Hours of Operation
Monday: 10:00 AM – 4:00 PM
Tuesday: 10:00 AM – 4:00 PM
Wednesday: 10:00 AM – 4:00 PM
Thursday: 10:00 AM – 4:00 PM
Friday: 10:00 AM – 4:00 PM
Currently closed Saturday & Sundays.